This post is part of my continuing series of weekly lesson summaries. My goal is to give parents & caregivers in our school community the resources needed to extend student learning at home, and to share my professional practice with teacher colleagues around the world in the hopes of improving my craft.
Week ending 05/02/14
Kindergarten
What we learned / did / explored together:
We worked for another week on our PowerPoint alphabet books. Only being able to use the Lab #1 (with PCs and PowerPoint) for 30 minutes a week (due to its use by other classes) is a challenge but the kids are doing well and we're almost done!
What I observed / inferred / connected:
I continue to be amazed by how the kids a) work independently and b) really seem to be having fun with this lesson. One reason, I believe, is flexibility. We provide sample words for each letter but do allow them to use their own. "Octopus" is, for some reason, the most commonly suggested word!
What students can do at home:
Even without PowerPoint at home, kids can still benefit from keyboarding simple words using any word processing program. If the program includes clip art, that can be searched too. I do not recommend image searches on the Internet unless you have web content filtering software at home or are familiar with Google SafeSearch, one of 

Google's free and very effective safety tools.

There's always the 

Kindergarten Symbaloo

 for fun learning games and keyboarding activities!
First Grade
What we learned / did / explored together:
This lesson is a hybrid I built based on a Common Sense Media lesson called "Is This Yours?" and one of the "Prosocial Skills" that is part of our Character Education curriculum (#37, "Asking Permission.") We began with a conversation about ownership, specifically, what items/objects/possessions kids had at home that they could use or play with on their own vs. having to ask permission first. We distinguished between objects and permission to do something (play outside) or go somewhere (to a friend's house.) We reviewed each of the five rules (Decide what you want to do; Decide whom to ask; Plan what to say; Choose the right time and place; Ask in a friendly way) and then the kids provided some examples to establish personal meaning. We then had the students pair up and brainstorm some sentences asking permission, emphasizing correct sentence construction (and spelling, as much as possible). Students then took turns writing their sentences in a Google Document (a presentation, actually), being sure their sentences included initial capitals, one space between words and a question mark at the end.
What I observed / inferred / connected:
Kids' writing skills are very strong this year – a credit to the hard work and dedication of the entire First Grade team. Student sentences were terrific and varied, their handwriting was neat (I later revised the worksheet, as suggested by Mrs. Edelmann, to include horizontal lines to help with alignment), and they worked diligently and without complaint for the entire session.
Doing this assignment with a partner helped a great deal. Kids guided (and corrected) each other and generally made the end product more interesting.
I was particularly impressed with sentences once they were entered into Google Docs. They were very well crafted!
Google Docs performed flawlessly. Google Presentations can be very effective for small word processing/writing tasks in Kindergarten and First Grade, especially when I need to mix instruction and other activities with writing (kids were actually editing a shared copy of my presentation.)
What students can do at home:
Write! You don't need a fancy computer (but if you do have one, use it!) Have students write any sentences at all they wish (giving them a good prompt helps.) Check for: use of an initial capital letter, one space between words, good sentence formation, and an ending mark.
Review the steps in Social Skill #37 mentioned above – see how many they recall!

Check out the 

First Grade Symbaloo

 for fun learning activities.
Second Grade
What we learned / did / explored together:
Students warmed up with some keyboarding practice using Typing Pal.
We talked about empathy – what it means to be empathetic and why it's important. We also talked about problem solving and affirmed that second graders are great, natural problem solvers.
We launched a new blog – "Second Grade Problem Solvers" – designed to develop empathy & understanding as well as helping the kids get ready for PARCC testing next year, which includes online writing. I also talked about our blog mascot, "Success Kid," a symbol of triumph in a situation that goes better than expected. (For more background, click here.)
Our first "Second Grade Problem Solvers" lesson involved a hypothetical scenario requiring the students' thought and advice. Each second grade class has a different blog post to respond to (in the comments).
I reviewed all student comments before they were posted but essentially made no other edits. This is authentic student work.
What I observed / inferred / connected:
This lesson worked very well. I tried to make the situations as realistic as possible. So far, it seems to be working, as the students enjoyed both reading the post and brainstorming advice to give in each case. Some of it was funny, some was touching, but all of it was authentic.
What students can do at home:
Talk about what it means to be empathetic and why it's important. Ask your child to remember a time they needed a boost and got one from a friend, how much it meant to them, etc.
Encourage your child to visit the blog (click here) and respond to a different post. I will approve all comments once I have reviewed them – nothing appears on the blog without my authorization. Students do not need a login to post a comment; we will be providing them with login credentials in an upcoming lesson.

For online practice and skill development, the 

Second Grade Symbaloo

 awaits!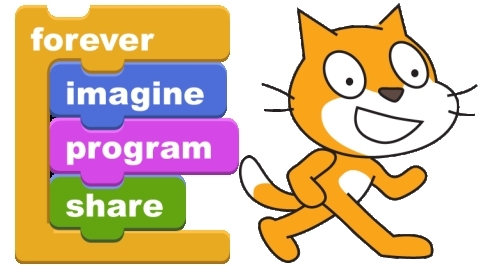 Third Grade
What we learned / did / explored together:
Students warmed up with some keyboarding practice using Typing Pal.
We are following up our LEGO WeDo robot lessons with some exposure to the wonderful world of Scratch, a free and amazingly popular programming environment designed just for kids. Programming in Scratch is straightforward and visual, allowing for endless experimentation, trial & error. The learning curve is extremely gentle. We provided some printed instructional cards (basically step-by-step guides) and after a short explanation of the program's layout and operation, we let the kids go.
We ended class with entries in our personal STEMLAB journals, something new we are piloting in third grade through the end of the year, designed to get kids thinking about their learning. We'll save a few minutes at the end of every class for these quick writing tasks. We'll see how this goes and probably expand their use in the fall.
What I learned / observed / inferred:
Scratch is enormously powerful, yet simple to use. Our limited class time presents a challenge, but by providing printed instructional cards, we let the kids work at their own pace on projects they chose. Several students worked on designs of their own. We will be expanding this lesson in the future and providing individual accounts for kids on the Scratch website.
What students can do at home:
Several students proudly proclaimed they already had Scratch accounts and knew how to use the site. Parents can click here for more information on how to get their kids programming.

Check out the 

Third Grade Symbaloo

 for fun learning activities and KEYBOARDING PRACTICE!
Fourth Grade
What we covered / did / explored:
Students wrapped up the "Remembering Kindergarten" project with the addition of images of their designed school and additional text describing it. Students also received (or will receive) their 3D printed schools. The rubric above was reviewed and I added comments throughout the documents, which many of the kids took time to reply to. It's been a terrific experience!
What I observed / inferred / connected:
This project unleashed more creativity and imagination than any other project we've done so far this year. In addition to being good preparation for PARCC (online writing), it was good practice with Google Docs. Kids really enjoyed getting their 3D printed schools to take home. There is something extra powerful about holding something in your hand that you designed yourself.
What students can do at home:
Sketchup is free to download – click 

here

 – and I know several students have already done so (because they told me!) I recommend the Sketchup MAKE version only because it's the most current and will get regular updates. I actually dislike what they've done with the interface and prefer the version we use at school, which is Sketchup 8 (available 

here

.) Don't take my word for it, have your kids try 'em both and decide! The good news is that anything they design in Sketchup can be rendered in 3D, all I need is the .SKP file!

Check out the 

Fourth Grade Symbaloo

 for fun learning activities, in particular, keyboarding.